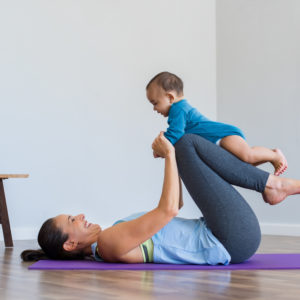 The return to the pre-pregnancy figure is of great importance to every new mother. However, it may not be that easy for all of them.
Pregnancy causes changes in your hormonal balance, and this impacts your metabolism. Additionally, being a mum you have less time for yourself – with all the new duties it is difficult to arrange a training session, and constant fatigue kills your motivation. Don't worry, you will get back to your old self step by step – don't give up, but don't be too demanding on yourself either.
If you add even a small amount of physical activity to your daily routine, you will instantly feel better. You will start to see the desired changes and you will feel more energetic.
A personal trainer will be provide you with invaluable support. A trainer will prepare a balanced postnatal training programme to help you tackle the main problems most mothers suffer from – extra weight, cellulite, rounded belly and saggy skin. It is commonly believed that you should wait six weeks after a natural childbirth before engaging in intensive physical activity, and twelve weeks after a caesarean. However, the final decision should be made by your doctor, so consult with your obstetrician before resuming or starting any workout.
How to exercise after childbirth?
A minimum dose of exercise (such as walking, delicate stretching and stabilising exercises) is possible even a few days after the labour. Individual training after childbirth requires commitment and the results will become visible gradually.
Even if you were active before pregnancy, you probably won't achieve the same performance shortly after the childbirth. The muscles have to get accustomed to effort gradually. Initially, your training will be composed mostly of aerobic exercises which help lose extra weight and oxygenate muscles, making them work more effectively. Valuable oxygen and improved blood circulation will have beneficial impact on your skin by stimulating production of elastin and collagen which are in charge of making your skin supple.
Such training sessions are also aimed at strengthening back and abdomen overstrained muscles – to this end we will plan some strength exercises. Most importantly, postnatal exercises have to be safe and the decisive factor here is how you feel. Training is meant not only to help you return to your pre-pregnancy shape but also to ease any tension or stress – as we all know, a happy mum means a happy child!