Training for pregnant women
There is still a strong belief in society that pregnancy is a period when physical activity is prohibited. It's not true. Unless your attending physician has found any contraindications, a properly composed training is not only acceptable, but even recommended.
Exercising during pregnancy has only positive consequences – better well-being, easier birth and faster recovery after giving birth to your baby. The benefits also apply to the newborn – due to better blood circulation, the blood supply to the placenta improves and the baby is better oxygenated and nourished.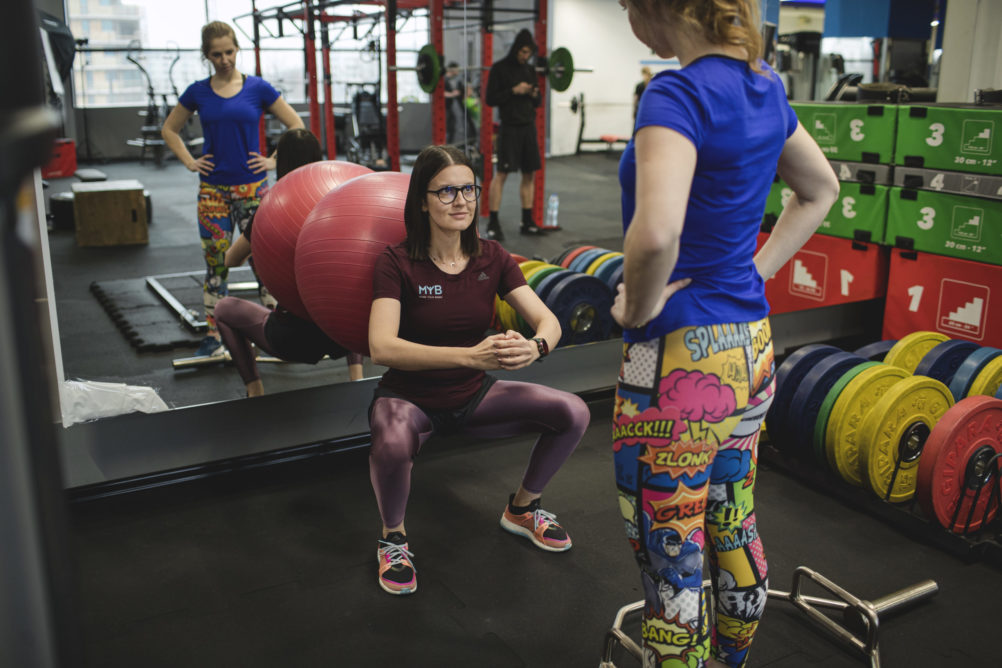 Of course, the most important thing is moderation and professional support that guarantees safety. Inform your personal trainer immediately that you are expecting a baby. Taking into account your condition, he will prepare a new training plan with different exercises, less intensity, reduced number of repetitions and loads. Every woman experiences pregnancy differently, so the training is individually tailored to the current possibilities and well-being of the future mother, as well as to the planned method of delivery (by forces of nature or by caesarean section).
Are you considering exercise while pregnant?
Make an appointment! The demonstration training is always free!
HOW TO EXERCISE DURING PREGNANCY?
Pregnancy causes serious changes in the female body. The baby grows with each week, causing weight gain and a rounded tummy.
Having knowledge in the field of physiology, we develop training for expectant mothers depending on the stage of pregnancy – exercises look different in each trimester. Training for pregnant women is designed, among others eliminate unpleasant pregnancy ailments – exercise is a recipe for constipation, nausea and even heartburn.
Future mothers often complain of back pain. No wonder, during pregnancy, the spine is subject to increasing overload, which is associated with a total increase in body weight and a shift in the center of gravity. The muscles in the legs and abdomen also weaken. A well-designed training for pregnant women assumes, in addition to maintaining the condition, also strengthening these sensitive parts of the body. Exercise will increase strength and endurance, and help maintain proper body posture and weight. Working on the abdominal muscles will also be effective after childbirth. During training for pregnant women, we perform breathing exercises, teaching proper breathing, so important during childbirth.
All this so that you can take on a new, most important role with peace and self-confidence – mother.
TRAINING FOR PREGNANT WOMEN
Pregnancy is an amazing time during which you can stay physically active as much as possible. A personal trainer will be a great support in this often difficult period for a woman. A personal trainer will certainly prove to be invaluable help and great motivation to act. In addition, he will be able to control the technique of the exercises you perform, as well as improve your posture on an ongoing basis so that you can be sure that you are exercising without harm to yourself and your child. It must be remembered that each training cycle for pregnant women begins with a consultation and detailed interview, during which the trainer is informed about health contraindications, the course of pregnancy, training experience to date, and the planned form of delivery. Women who do not want to give up exercise during pregnancy should train under the supervision of an individual trainer – only then can they be sure that the training will be 100% safe.
Training for pregnant women
Exercises for pregnant women can be performed in a place of your choice. We want you to feel at ease and comfortable. Our trainer will make an appointment with you at your favorite gym, home or wherever there is an opportunity to exercise, e.g. in a park or forest. A training session for pregnant women lasts approximately 60 minutes, during which you and your baby matter! Each meeting is divided into three parts (warm-up, basic exercises and cooling down), and the duration of each of them depends on your current needs and possibilities. The MIND YOUR BODY team consists of experienced and qualified experts whose work has been appreciated by hundreds of people, including future mothers, so you can be sure that you are in good hands!
At MIND YOUR BODY, we encourage everyone to be physically active, including pregnant women who do not want to give up exercise until delivery. Trainings for pregnant women are tailored to the individual needs of future mothers. In addition, the exercise program is modified with each trimester. As the possibilities of the pregnant woman change. We also encourage you to take advantage of physiotherapy sessions and massages, which will allow you to relieve a bit of back pain typical of pregnancy. We believe that with our help, you will be able to stay in shape at a time when you should especially take care of the safety of your exercises, use energy wisely and save your strength.