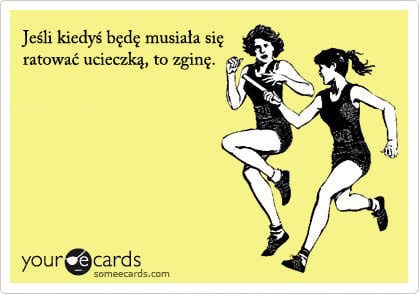 Even though we may say that running is currently in fashion, one may not ignore the fact it is much more than just a fad. It is a certain lifestyle shared by people of different sex, occupation, race and age. It is a sports activity for everyone, which gives you a unique sense of community. And I don't mean here only numerous mass events, competitions or street races. Just go for a run in a park to see that other runners will wave to you – you don't know each other but you're on the same team. So what makes running so special that it appeals to masses of people around the globe? Read about the most important reasons to start running below and then… just try it for yourself. At first, you'll need a great deal of strong motivation but once you're 'hooked' the worst weather won't be able to scare you away, and you'll even delay watching a gripping Netflix hit because running will come first.
A great way to lose weight and get fit
Many persons take up running as a way to lose unwanted kilos, improve their figure and shape. No wonder – while jogging you burn 700 calories per hour at average (obviously, it depends on your pace and body mass), and also you speed up your metabolism, which facilitates fat loss. While running you improve your body functioning and coordination, and you also work towards getting rid of cellulite. If you run regularly, you will also see less ageing signs, as better blood circulation makes your skin more elastic.
A recipe for a long and healthy life
In terms of health benefits, running is just impossible to overrate. Better sleep, more effective digestion and regulated blood pressure are only a few on this long list. Moreover, jogging prevents also numerous serious disorders, such as diabetes, it decreases the risk of a heart disease and strengthens your immune system. It oxygenates the body, improves your blood circulation and respiratory functions, which means your brain is working better and you enjoy a clarity of thinking, focus, good memory and efficient decision making. Running will give you a healthier and longer life – and that is improved life quality in general.

Inner harmony
Jogging lovers all agree that running is beneficial also for your psyche. When running, you can leave your worries behind and alleviate any tension and stress, which will help you cope when feeling low. Additionally, contact with nature will soothe your mind and help you focus on what's important. Endorphins released during running will make you feel better and adopt an optimistic frame of mind for the rest of the day. If you run regularly, you will have the feeling you're doing something for yourself, while the progress, stamina and the conviction that you can overcome your weaknesses will make you proud of yourself. As a result, you will be more self-confident. What is more, running teaches discipline, organisation and regularity.
A running training programme may be a part of a more broad training regime aimed at increasing your physical potential. As you can clearly see, there are far more than just 7 reasons for running. Just ask an experienced runner and they won't be able to stop talking about it! And if you try it yourself, you'll surely be able to add some new benefits you will discover yourself.